Remembering the Vet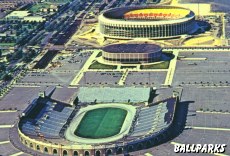 Well, hard to believe, but we've finally arrived here: Veterans Stadium is no more. I'll tell you, I'll never forget Sunday morning March 21, 2004, as I watched it fall, or later that day when I emerged from the bowels of the city as I got off the Broad Street, and then took my first look at the once-familiar corner of Broad and Pattison: the familiar hulking presence of Veterans Stadium had been reduced to a pile of so much rubble. Hard to believe, Harry.
Now, sure, the Vet wasn't good for baseball (although I would argue it had a certain Coloseum-style for fotball, a gladitorial game in this latter-day Roman Empire of ours), but it did have a certain charm all its own, and I was genuinely surprised how sorry I was to see it go when it finally did. Before I go any further, allow me to share some of my personal photos of the Vet in its waning days as Philadelphia's nexus for major league baseball.
Here's an image of it looking for all the world like a classic baseball venue, to rival Fenway and Wrigley, in a black and white I tok on the last day: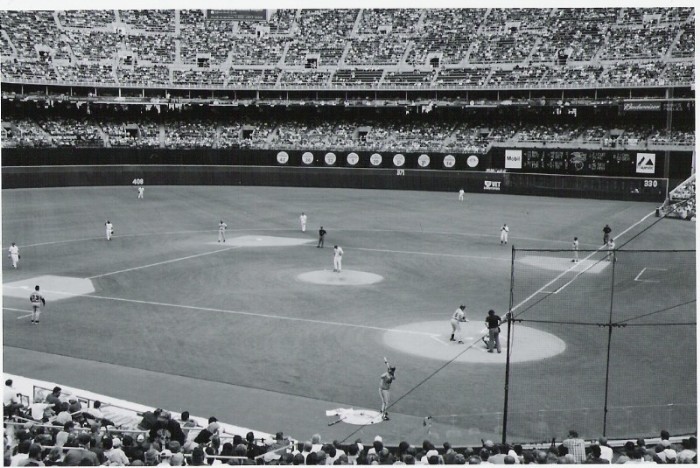 Here's its imposing facade, with the equally imposing figure of Connie Mack directing his charges in front: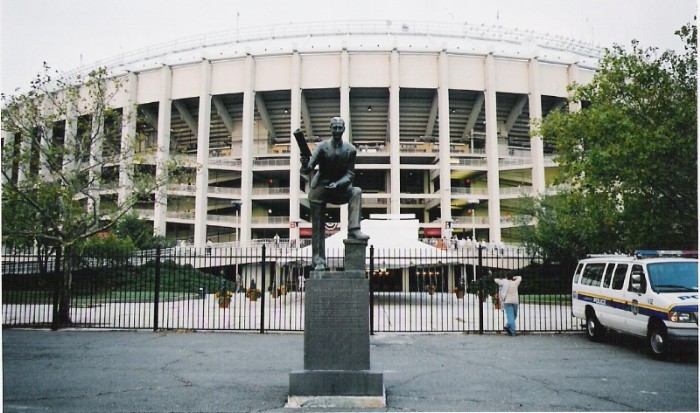 The all-too familiar columns provided at once a pervertedly classical effect:
An empty Phillies bullpen after the last night game: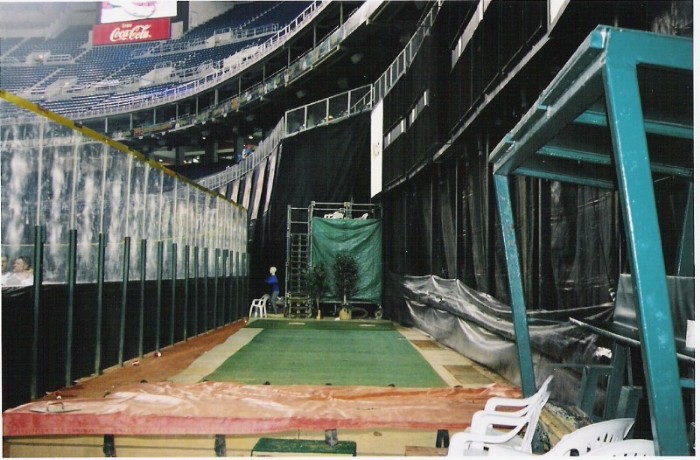 A classic view from the top: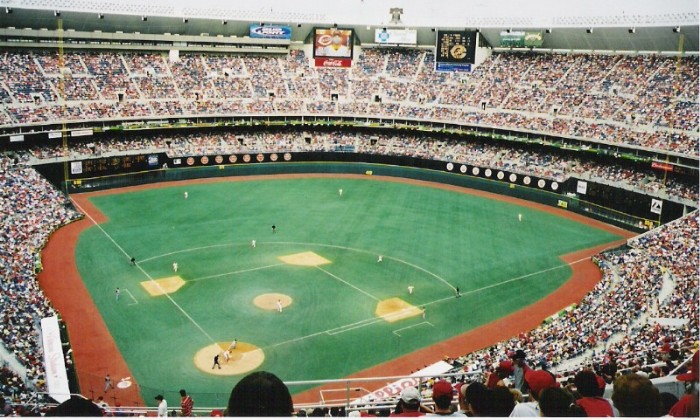 And now, in glorious black and white: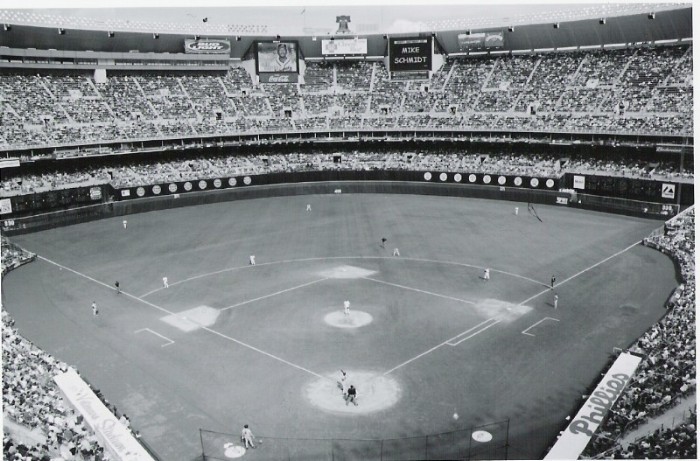 Last one out, turn out the lights...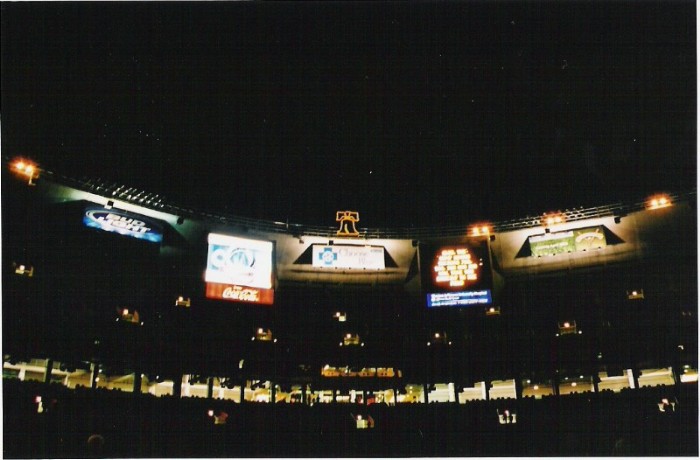 From the construction site of the new stadium...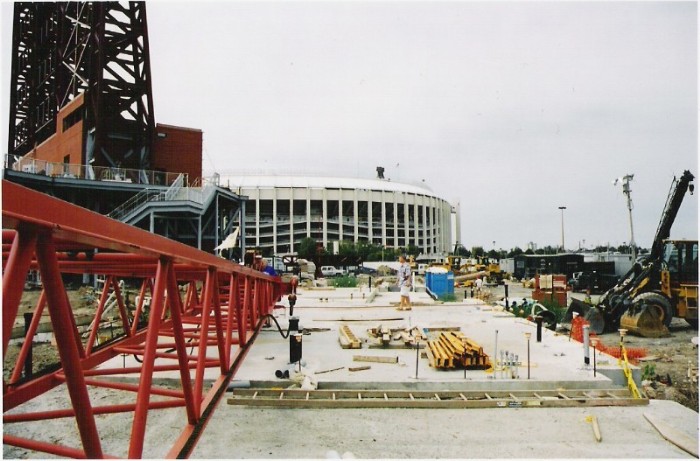 The end of one era and the rise of the next: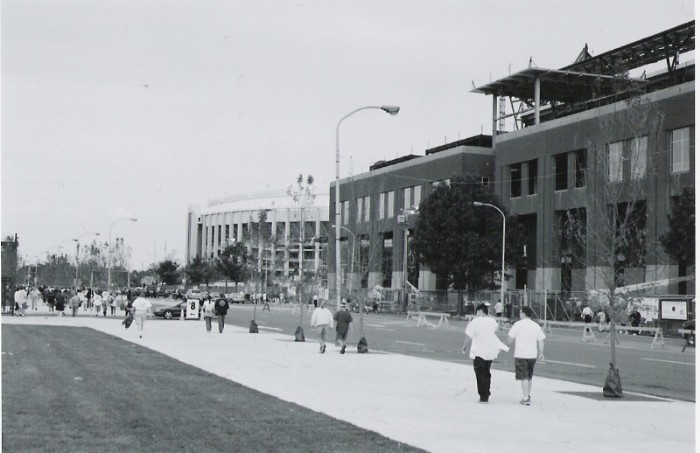 And finally, the end. The following photos are courtesy of the Philadelphia Inquirer:
The mighty giant crumbles: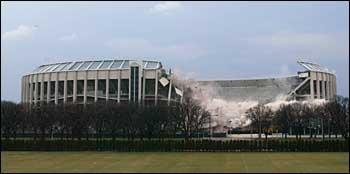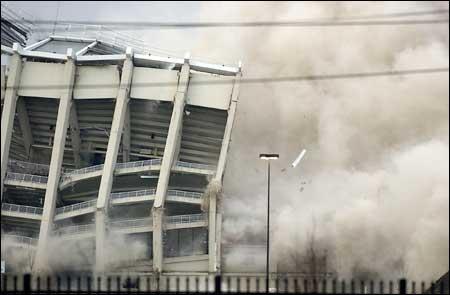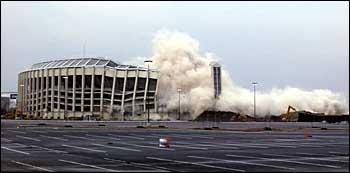 And so, that's it, the end of an era. Certainly I have mixed feelings about this. On the one hand, it's just a building, there's no need to get overly upset. On the other hand, many of my fondest memories were there. The Phillies certainly put together the best era in team history ion Veterans Stadium: from 1883-1970, the Phillies won the National League precisely twice, in 1915 and 1950, and they never won a World Series. From 1971-2003, the Phillies won three National League penants, and one World Series. They had eleven consecutive wining season from 1974-1984, easily the longest such streak in franchise history.
More importantly, I spent an admittedly obscene amount of my youth there, my time there. It's hard to see a place like that go. When you get to know it so well, even something as fundamentally uninteresting and essentially barren as Veterans Stadium grows into a certain kind of familial beauty. A few years ago, I wrote on this very topic, in anticpation of the Vet's closing. You can read that document here:
The Vet Deserves a Long Good-Bye
Perhaps the best way I can explain my feelings is by describing my favorite ever night at the Vet, which certainly would have been a vastly different experience in a different setting. This was a windblown, wet night in June of 1998. The Phillies were playing the Pirates in a game that, while not meaningless for the Phillies (who wre nominally involved in the wild card race), was certainly not anyone's idea of a title bout. But, we (my friend Shawn and I) had good seats that night, sixteen rows behind home plate (as good as I would ever have at the Vet, as it turns out), and so we were excited. But, traffic was bad, and before we got through the door, the Phillies had surendered two three-run homers and were down, 6-0. We arrived just in time to see the team's best player, Scott Rolen, ejected after an unusually heated argument with an umpire. As the night wore on, the Phillies showed little interest, the Pirates tacked on another run, and when, in the seventh inning, it began to rain, my friend and I watched as what was left of the sparse crowd headed dejectedly for the exits. The Phillies were down, 7-1.
Perhaps knowing that we would never see seats like these again in our lifetime, or perhaps because wwe just had the slightest intuition that fate was with us, we decided to head up to the 700 level, where we could wait out the flash storm on relatively dry land. On the way up, we were talking, and in a moment I shall never forget, it suddenly hit me: the Phillies were going to win tonight. I started laughing. Laughing because I knew. I knew as surely that I knew the sun would rise in the east. My friend asked what I thought was so funny, and so I told him. Usually the optimist of the two of us, even he was dubious of my sudden prediction. But I insisted, and we decided to wait and see.
The rain ended after forty-five minutes, and we made our way back down. The atmosphere in the ballpark was one I had never really experienced before; there were less than 1,000 people left, and suddenly the Vet seemed older, dingier, the dilpaidating home of a team whose fanbase had been eroded by greed and incompetence. The place felt particularly old and hard that night; but, at the same time, the crowd that was left was a baseball kind of crowd. Only the most diehard of junkies remained, and people took advantage of the special occasion to create a party-like atmosphere: for tonight, the place was ours, this select group of us fanatics; we owned it, and we could do what we wanted. Suddenly, the Vet was now more than just a municipal facility, or a team headquarters; truly, it was our place, my place.
I saw a few guys gets Chris Wheeler's attention in the radio both; he graciously gave them a wave. I turned to my friend and told him we had to get Harry. We called and called, and, wouldn't you know it, he stuck his head right out and waved to us. Just us. Because now we were part of this place. We were in.
Within moments, I "met" the Phanatic for the first time, and saw mine own visage gracing (well, Ok, not gracing... appearing) on Phanavision for the first time. The night was turning out special. Oh, but the baseball team wasn't playing any better. I noticed it was the bottom of the ninth, and the Phillies were still down, 7-1.
Mark Lewis was at the plate for the Phillies. A non-descript one-year fill in until Marlon Anderson, our second-baseman-in-waiting, was ready for the majors. He slapped a ball through the whole on the right side, had himself a single. Might have been the highlight of his whole season. Bobby Abreu came up next --- then he was just this kid who we got for Kevin Stocker and who, somehow, was hitting .330 --- and he rifled a ball down into the rightfield corner. Lewis scored, and Abreu had himself a triple. 7-2. I moved just a hair closer to the edge of my seat.
Amazingly, the next two guys walked. Amazing, because the first guy was Mark Parent --- a backup catcher with a strike zone that had its own ZIP code it was so big. And the next guy was Desi Relaford, who was not exactly known for plate discipline. He got himself down 0-2, in fact, and somehow worked himself back to a full count and then to a free pass. Still 7-2, but now the bases are loaded. And there's nary an out.
Alex Arias was up next. We had gotten him from the Marlins over the winter, and he was easily our most effective role player off the bench. He was a solid pinch hitter all year long, and I really had good feelings about his at-bat... that was, until, he rifled a dead double play ball to shortstop.
Oh, but that behemoth Mark Parent. Once he gets on base, its a problem for those infielders, because it was a quarter-mile walk around him. And, since none of the Pirates infielders appeared to be equipped with X-Ray vision, it really became a problem for that shortstop, because Parent got himself between the ball and him. Effect: the ball gets booted out into right center. Abreu and Parent score. Relaford to third. Arias holds at first. 7-4. And there's nary an out.
The Pirates had had enough; they changed pitchers. The next guy comes in and quickly gets Glanville to fly out lazily to left. Problem: Relaford was on third. He tagged and scored, and now it's 7-5.
Kevin Sefcik bats for the Phillies. Who you ask? Another role player, really not bad for a guy who never had a prayer of starting in the bigs. I'm now officially on the edge of my seat, waiting for this thing to really untrack itself. But I feel my heart sink into my intestines when Sefcik rockets a ball to the second baseman. Dead double play ball.
But the second baseman comes up to make the play, then tries to tag out Arias in the baseline. Sure enough, he does; but Arias has enough presence of mind to make it extremely difficult for the guy to get the throw off to first. He finally does, but Sefcik beats it. A momentary reprieve.
Kevin Jordan now comes up, but now with two out. And Jordan, God love him, draws a walk. Which brings us to the pitcher's spot, and a pinch hitter --- the one Phillies regular who did not play that night, Mike Lieberthal. It's Casey at the Bat now and I'm officially in Mudville. Veterans Stadium is dripping wet and impossibly loud and though I brought my glove in hopes of getting a foul ball all I can think about now is the Phillies finding a way to win this, I am nearly dying with the anticipation. Just get a hit just get a hit just get a hit just get a hit just get a hit just get a... DAMN he fouled it off. It'sOKjustgetbackinthereandpleasegeta...
"Andrew, it's coming to you!" my friend's voice comes out of the ether. It? What it? Oh... look up.... there it is... there it is right over my head there it is... back up a bit, back up a bit, back up a bit... I slide and slip on the slick concrete stairs and I feel it all desperately slipping away I'm not going to get there and then I watch it hit a few feet in front of me and bounce away. I turn away dejectedly and look to my friend with apology in my eye, but he only has joy in his. He holds his golve aloft, with the prized baseball snugly inside.
Back to the game. Lieberthal fouls the next pitch off and now it's 0-2 and I can barely look. The place is getting impossibly loud but I'm dead quiet I can't speak I can't breathe I just need the next pitch to happen so I can stop this and it does and he lays off it and it's 1-2. I relax only for a moment and then the stretch and I'm right back to madness and it's inside and somehow he laid off of it again. 2-2. 2-2. OK, 2-2. That's not so bad. Just find a fastball and hit it hard and it will be alright, we can get another batter and maybe tie the game. But as the pitcher stretches my moment of clarity dissipates instantly in a new knot of anticipation and then he swings.
I let loose a primal cry and toss my prized baseball glove skyward, no longer concerned for its fate. Before anyone else, I know it's out. The crowd is just a half-beat behind me, and as the ball hits the glossy-black tarp that covers the extra seats behind the left field fence what could not be more than 700 people erupt in pure elation, louder than any crowd I can remember; Phillies win, 8-7.
Some of us lingered after the teams left the field, after the on-field celebration was over, cheering for Mike to come out and take a curtain call. We could do that because it was different now. This wasn't a business with a closing time and a "last call," this was another home and we could stay late and linger and put out the lights when we felt like it. It was old, it cracked, it smelled, it was wet and it was dingy, but damn it, this was our house and were proud of it, proud of the team, and proud to be living there.
Good-bye, Veterans Stadium. You were never so charming as when you were at your most vulnerable, never so beautiful as when you were most obviously a dying relic from another era.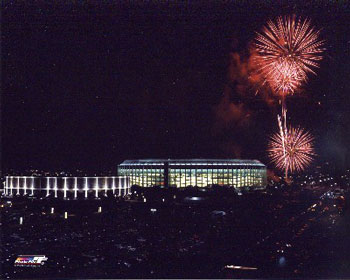 Email: mozartpc27@yahoo.com