Ron Gant Fan Page
My favorite former Phillies player of the last few years was Ron Gant. Though now out of baseball, he had a long and largely successful career, playing with the Braves, Reds, Cardinals, Phillies, Angels, Rockies, Padres, and Athletics. In the first game I went to in 1999, Gant's first year with us, he hit a home run. This started a pattern that continued for a year and a half; when I went to games, he hit home runs.
But it would be silly if that were my only reason for liking him. Gant was a consummate pro who played hard every day and did whatever was necessary to help the team win, whether it was hitting behind the runner or just making a superb defensive play.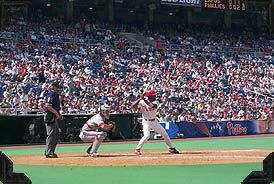 Gant came to the Phillies in a trade that brought Jeff Brantley and Cliff Politte along with Gant in exchange for Ricky Bottalico and Garrett Stephenson. When he first came to Philadelphia, he struggled mightily just to stay above the Mendoza line. However, though he wasn't contributing much at the plate, he did his best to make up for it in the field, and make up for it he did. In twenty-one years as a fan of the Phillies, I've never seen a better left fielder play for us. Gant ran hard, threw well, and made a maximum effort on every ball hit his way.
Gant took a lot of heat in the press and from fans for his early struggles at the plate with the Phillies. He was lustily booed by fans for the first two months he was here. I never booed him, and my "faith" was justified in June of 1999 when Gant was moved to the number two spot in the lineup. From that point forward he hit over .300, and became an important veteran leader on a young Phillies ball club.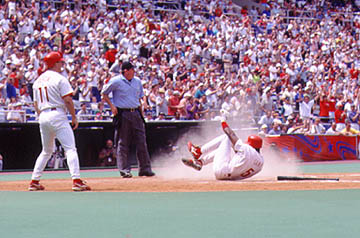 Gant continued his quality play in 2000, quietly putting together a fine season for a team that was out of it early. Despite continued, and unjustified, griping by Philadelphia fans, it was clear to the observant fan that Gant was not only having a tremendous individual season, but was also a team leader for a club that had some tough times in 2000.
Gant's most memorbale moment as a Phillie undoubtedly came on August 11, 1999, when the Phillies were playing the Arizona Diamondbacks. With the team trailing 2-0 and Randy Johnson breezing along in the eighth, Gant hit a tremendous home run to tie the score; in the bottom of the eleventh, Domingo Cedeno sent the crowd home happy with a rare home run to right center. That's another thing about Gant: when he was with the Phillies at least, he was a clutch hitter. When it seemed most important, he always seemed to have another hit or even home run up his sleeve. In 2000, I was to five Phillies games, and Gant hit homers in three of them, including a game-winner against the Devil Rays.
Now, Gant's playing career is over, and his career might be easy for some to forget. But, let it be remembered here that he was a solid ballplayer and a great ambassador for the game. This year, Gant signed a contract to be a commentator on seventeen TBS telecasts. Hopefully, this new gig will suit him well; one of the things that was very memorable about him even in the year-and-a-half he played here was how well-spoken he was. I am sure he will bring the same professional attitude to the booth that brought to the field; indeed, I am so sure of it that I may actually watch a Braves telecast or two this year to see how he does!
E-mail: mozartpc27@yahoo.com